KUSUM JOSHI
Kusum Joshi was a founding member of Himalayan Naari.  She is a superb knitter;  she created the Kusum stitch which is used in many of our shawls and scarves.    She takes a leadership role in Naari as a member of the wool team, which is responsible for procurement and distribution of the wool to knitters.
Kusum grew up in Gangolihat, a small farming village in the Kumaon region.  She moved to Chakouri about five years ago so that her two small children could attend the Himalayan Inter College.
BASANTI KARKI
Basanti Karki resides in Chakouri with her 2 children and a number of nieces and nephews who all attend Himalayan Inter College.  She has been an active participant of Naari since its founding in 2010.  A master knitter, Basanti has sent many beautiful products to the US.
"Since joining Himalayan Naari"  Basanti explains, " I have grown in my self-confidence and can work very hard now. Naari is a breakthrough for women's empowerment and I hope it will thrive in the future"
DEEPA KORANGA
Deepa Koranga is another founding member of Himalayan Naari.  As the mother of energetic twin boys, she has been renting a room in Chakouri so they can attend school.  Deepa herself has an 8th grade education and has high hopes for her own sons.  In talking about her own ambitions, Deepa commented, "At Himalayan Naari we work cooperatively together. I have learned new knitting stitches and some computer skills. Himalayan Naari has given me self-determination and economic independence."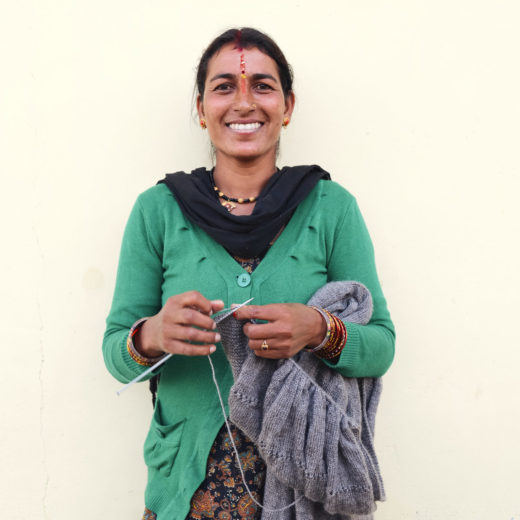 DEEPA GAIRA
In describing the impact of Himalayan Naari on her life, Deepa Gaira reported,  "From Himalayan Naari, we have learned how to work cooperatively and find inspiration in other women…we are now self-confident ladies who have learned many new things."  As a mother of two children, living in a rented room in Chakouri so that her children can get a good education, Deepa is very invested in improving her family situation.  As a master knitter, she has created many exquisite products including intricate shawls and couch throws.